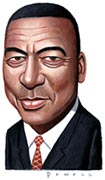 Bob Johnson, founder and original CEO of Black Entertainment Television(
BET
), said he expects to close soon on a
$125 million private-equity buyout fund
he started with the infamous
Carlyle Group.
As a casual observer and concerned citizen, this troubles me.
I have been a longtime critic of BET for its misogyny, materialistic and general morally damaging messages, and negative stereotypes it perpetuates, but still acknowledged the significance of black ownership of a station. I had always assumed that the negative caricatures seen on most stations and in most movies would disappear if the network was black owned since a black person would frown upon the poor representation his people received, but that proved false with BET. The same violent, "angry black man" character seen every night on the evening news had become a glorified role model for black youth, and although not bearing the entire blame, BET played the catalyst for this to happen, being the only "black station". Some blamed Capitalism; others, the people. No matter the cause, all that was proven was that the bottom line carries far more weight the petty scruples of the minority of a minority. Bob Johnson further emphasized this by
selling BET to Viacom
in 2001
, once again turning control of a major influence to black people back into the hands of white men. Nice going, Bob.
It is the above series of events that worries me about recent actions.
The Carlyle Group
, who own around four percent of America's wealth, and are famous for such high profile associates as George Bush Sr and the Bin Laden Family, are becoming equally infamous for questionable practices and conflicts of interest. The thought of this seemingly invincible mega corporation and Bob Johnson is unsettling, especially since their stated interest is acquiring small to medium sized businesses. I don't mean to insult Mr. Johnson since I have no insight to his intentions, but teaming up with the Carlyle Group for this buyout fund sounds like bad news for black people.
To the average man, Johnson's expertise is in business, but to the businessman, his expertise is in black people. His network, like his banks and other business, target minorities- something his financial success shows him to be good at. Now he is partaking in his biggest venture yet, combining with the Carlyle Group to buyout smaller businesses. To many small business owners,the idea of a larger corporation buying them out sounds great, but I see only negative side effects from this. I assume Johnson will follow his previous patterns and target minorities, who are in this particular case, minority owned businesses. I see this investment being as successful as his others, which means steadily, black owned businesses will become white owned businesses. Its said in business that he only color that matters is green. But in America, business ownership translates into circulated income, or lack thereof, for a poverty stricken people. Black people are earning lots in wages, but almost none of it is spent on black businesses, and the cycle of poverty continues. Less black business means less black wealth. Johnson sees the potential profit, but I only see a great disservice to Black America. Support your community first, and all the neighborhood benefits. Its a principle America has preached for years, regarding American made products and outsourcing. Yes, in business green is the only color that matters, but Life is more than business transactions, so green isn't all I see.